About Lloyd Brekke
In Wisconsin I started building model cars at age 10, drawing dream cars like GM Motorama cars in high school. At age 15 I bought my first car, a '37 Olds 2-door fastback, and soon painted it.
My first hotrod engine was a '53 Merc swap in a '40 Ford 2-door sedan which I built at age 16. At 18, while in the Air Force, I built a '32 Ford pick up, chopped it 4″ and channeled it 6″, lowered the suspension and installed a Chevy small block in l957.Soon after that I began drag racing.
After my Air Force discharge in l960, I went to work at a Chevrolet dealership for several years doing all types of mechanical work on cars and trucks. I prepped new cars and did some of my first serious paint work. Three months after I bought a new '63 Sting Ray Coupe,I smoothed out the body work and put a show finish on it.
In l967 I began working at Central Aviation as an FAA licensed Powerplant and Airframe Mechanic. I soon had an Inspection Authorization, and earned a Commercial,Instrument, and Multi-engine pilots license and became a Flight Instructor. In l970 I built a BD-4 Experimental airplane, which was a 4-seater powered by a fuel, injected turbocharged Lycoming engine. It flew at 225 mph top speed and had a service ceiling of 25,000 ft.
All this time I was still owning and working on old fun cars, such as another '40 Ford and a few mid-50's Chevys. Then in l976 I bought a real good '57 Chevy BelAir hardtop in Los Angeles which we still own today.
Early in l984 I started Lloyd's Auto Restorations. People wanted me to restore their cars to the quality of my '57 Chevy.
It wasn't long before our son Jeff joined me in the business. We were striving for very straight body work, high quality paint work, and a high level of detail in all areas and systems.
Over the years our goal has been to continue to improve quality, detail work, and utilize the finest products and materials as they arrive in the industry.
We continue to attend Akzo Nobel Sikkens Training Center to improve our knowledge of new techniques and refinish products.
About Jeff Brekke
I'm sure my interest in cars and other vehicles was passed down from my dad. Although I don't remember all the details, I'm told that at age 2 my first tricycle and pedal car went through an immediate disassembly upon receiving them as gifts. I did get them back together and enjoyed using them.
As the years continued I remember hanging around my dad and just being curious about anything he was doing. From his days of karting to adding a new hood scoop to someone's Corvette or rebuilding the crashed 59 Vette he found or building his own airplane, there was never a lack of cool stuff going on around the house. I was in 3rd grade when he let me do my first oil change on his 70 Z28. I remember it well, because I put in too much oil and had to drain out the one extra quart. My interest in model building also started at this age and any extra parts where always kept and used for future creations.
While living in Kansas I probably lived the ultimate middle schoolers dream. I was able to get a restricted drivers license at age 14. Not that I needed to drive every day but I could drive to school once in awhile when necessary. The car I drove was a 57 Chevy Nomad wagon with a solid cam 350, Muncie 4spd,Crager Mags and Lakewood traction bars. I'll never forget the look on the principal's face when I went to the office to ask where I could park my car.
I bought my own first car, a 57 Chevy 4dr sedan in high school. On it, I tackled the engine rebuild, trans replacement, interior change and my first complete repaint in the garage. At that time a guy said he'd shoot it for $180.00 and I though that was too much. Let's just say that thanks to dad that first paint job went from "what happened!" to "that really came out nice". I still have the car today.
After high school I attended Florida Institute of Technology and earned a Bachelor of Science in Mechanical Engineering. After many unsuccessful attempts at getting into the engineering field, I joined dad at the shop. Working with him on projects that had always been considered hobbies is now something that has allowed us to share with others our love of the automobile. Although there are certain aspects of the business that are not the most fun, we both realize that they are necessary to provide the best possible job for our customers.
When we hear the statement " Oh it turned out better than I expected" then we know it's all worth it.
Jeff Brekke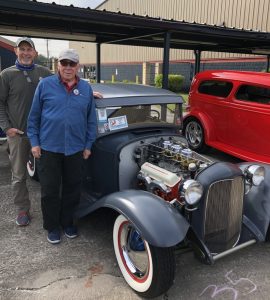 Details do make the difference between an award winner and a nice restoration.
When you need a fully qualified shop that can handle any restoration project Contact Lloyd or Jeff at 863-533-3722
 "Our quality shows because we care."